MD Today San Diego Urgent Care Clinics have X-Ray, Lab, and much more, all of which is provided by Experienced Providers with No Appointment necessary.
Call us today! Scripps Ranch: 858-622-0554
Do you have a health issue that needs to be addressed promptly, but you can't afford the exorbitant fees of the emergency room, nor can you wait for an appointment with your regular doctor? MD Today Urgent Care may be the closest urgent care center to you that can not only provide quick walk-in services, but can also treat you for affordable prices as well.

MD Today Urgent Care has on-site x-ray, lab, and much more, all of which is provided by experienced providers. Urgent care is an excellent alternative to the emergency room for most non-life threatening medical emergencies.
Walk-in San Diego Urgent Care Services include:
Pulmonary Function Testing
Quality Care for All Ages
Our experienced providers have extensive experience caring for patients of all ages at our emergency clinic. From pediatrics to geriatrics, you can trust our providers will treat you with the level of care you deserve. You and your loved ones won't have to spend hours in the emergency room, worried and in pain. Whether it's you, your mother, or your child that needs medical attention, you'll always be seen quickly by our professional and compassionate staff. We aim to provide accurate diagnoses and relief as quickly as possible so you and your family don't have to spend all night in an emergency room.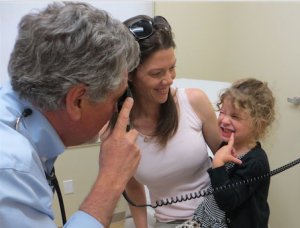 San Diego's Best Urgent Care Centers
In addition to urgent care services, MD Today Urgent Care also provides pediatric and employer care. If you are interested in learning more about the urgent care services we provide at our San Diego walk-in clinics, click on one of the links below. For the best San Diego urgent care clinics, visit MD Today Urgent Care.
Pediatric Care
Since 2012, MD Today Urgent Care San Diego has been caring for individuals of all ages
San Diego Urgent Care for All Ages
Since 2012, MD Today Urgent Care San Diego has been caring for children of all ages, from newborns that are just a few months old, to teenagers, no problem is too big or small for our experienced and friendly providers. Click the link below to learn more information.
Urgent Care
MD Today accepts most PPO, Medicare, and Tricare insurance plans. No appointment necessary.
Open 7 days a week 8am - 8pm
Our highly skilled staff and providers are able to treat most non-life threatening medical emergencies. X-rays, Labs, and much more are all conveniently located under one roof. Insurance accepted. No appointment necessary.
Employer Care
Pre-employment physicals, drug screens, and work related injuries can be treated with fast, affordable quality, at MD Today.
Open 7 day a week 8am - 8pm
All of our providers are experienced occupational health providers. We provide fast, affordable, quality care that includes drug screens, physicals, and drug screens. Our team is dedicated to your business's health & success.
Here's what our San Diego Urgent Care Patients are saying:
"So glad this place opened up. The Scripps Ranch community was due for a neighborhood urgent care provider and family practice. "Dr. J" is awesome. Kind, professional, and a great sense of humor. Use the urgent care when he's not around. Great place. I'd highly recommend Len and MD Today Urgent Care to any family in San Diego" – Anthony K., Yelp
Went to MD today urgent care this weekend and received first class treatment. The place was spotlessly clean; the staff was attentive and very professional. Dr Jurkowski was kind and confident. I would highly recommend this facility to anyone.
I couldn't be happier! I'm going to him for now on. He was very thorough. Within minutes he was conducting tests and taking xrays right there! Things my regular doctor hadn't thought to do. I love that they open at 8am and are open 7 days a week too!
Where do I begin!!!
Firstly, this place is awesome!
When I walked in, it's super clean and very welcoming.
When I signed in the staff was beyond nice! I was all checked in within 10 minutes, and waited maybe another 10 minutes before I got called back. Record time for an urgent care place!
The nurse that took my vitals was awesome. He was nice and funny. I enjoyed him greatly. After he told me I passed all the tests. The doctor came in…. And he was beyond nice and straight to the point! He did his thing and I was about out in 15 minutes.
I will recommend this place to anyone.
Also you can make any of the doctors there your primary care giver. I definitely did that!
Thank goodness I found Dr. Len Jurkowski!! They have late office hours which was perfect for my schedule -and was able to walk in even though I missed my scheduled appointment the day before. Both the receptionist and the prepping nurse were VERY nice and helping to calm my nerves (much needed). Dr. Jurkowski spent quite a long time with me and did everything he could to help me feel more comfortable with my decision to finally seek professional services. I could tell he really cared and wasn't trying to just run in and out of the room.
Great office! Everything was brand new. They accepted my Tricare Insurance, No co-pay. Little to no wait. Had to get an X-ray on my son's ankle after a pop warner injury. The back office staff and Dr. J were awesome. Kind, Caring, and laid out all our treatment options. Would Highly Recommend to anyone including Military Families.
Fast, convenient, friendly staff.
When you are feeling sick you don't want to wait in lines, you just want to be helped. I was there less than 15min, left with no pain and my issue resolved.
I would Def come back again. HOPEFULLY not anytime soon.
This is a very conveniently located urgent care in the new Von's shopping center. The staff is friendly and professional. The doctors are very good and you can be seen quickly and effectively for a fraction of the cost/wait of an ER visit. They have X-Ray on site. They also offer Primary care medical services.